Wood Fence Installation Columbus Ohio
Residential, Commercial and more…
Looking for wood fencing in the Columbus, OH area? Whether you need a privacy fence, split rail fence or a fence built of cedar, we have what you need. Give us a call today.
Request a Quote
Tell us a little about your project, and our team will be in touch shortly.
Your Wood Fence Company in Columbus Ohio
Wood fences are an absolute classic and have been the go-to fencing solutions for homeowners. From its affordability to its wide range of styles, wood fencing proves that it stood the test of time. Get in touch. We want to be your wood fencing company in Columbus Ohio.
Popular Wood Fence Installation Services in Columbus
Choose the Natural Beauty of a Wood Fence
Wood fencing can be customized in width, height and width. We'll install a fence that has the right size for your property to enhance your outdoor living area, curb appeal and keep it secure and private. Wood offers a natural look and appeal. You can pick lumber with a simple or ornate look to make the beauty of your property stand out. Go for a wood fence if you want a fencing solution that's environmentally friendly. Vinyl or chain-link fences aren't as recyclable as wood. Recycled (reclaimed) wood can be made into a new wooden project.
Popular Types of Wood Fencing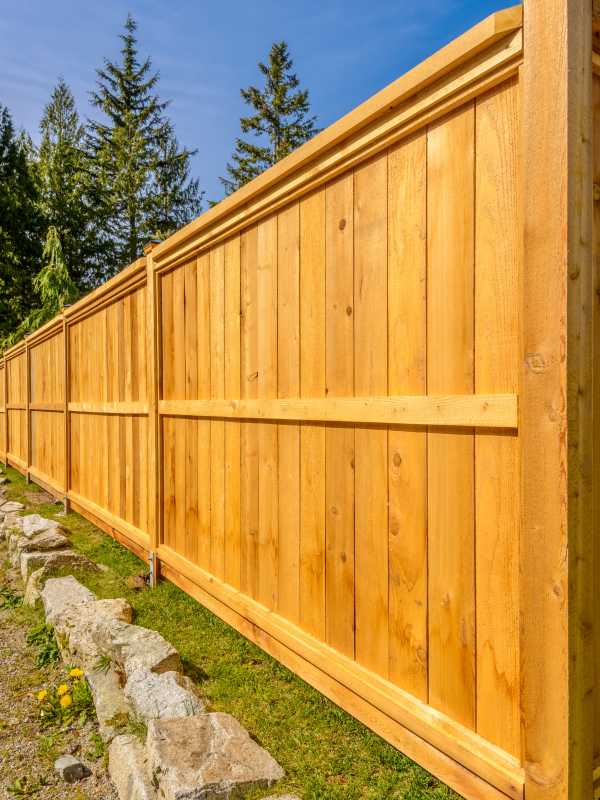 Post and Rail Fences
Post and rail fencing offers many styles and options to fence your backyard.
Installed most often will be three rail fence. Three evenly spaced horizontal rails do not obstruct vision and allow installation of wire mesh.
Popular wood choices for post and rail fences in central Ohio will be pressure treated pine, which can be stained, cedar, or poplar rails combined with posts rated for ground contact.
Sometimes referred to as a "board fence", "ranch rail" or "split rail" fence. We separate split rail from post and rail, so check our page on split rail fencing for more information.
You can add more rails to make a four rail fence or even a five rail fence.
Decorative options include:
gates, matching or different style
crossbuck fence (crossed rails)
post caps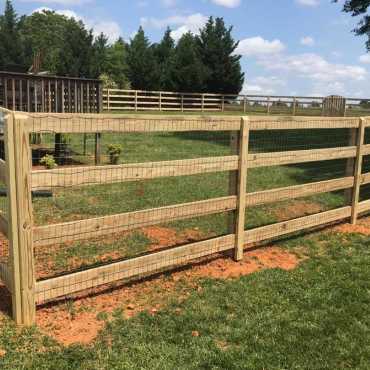 More Styles of Post and Rail Fences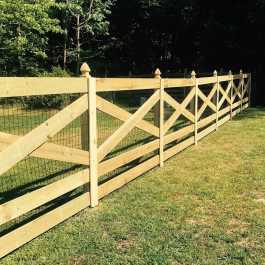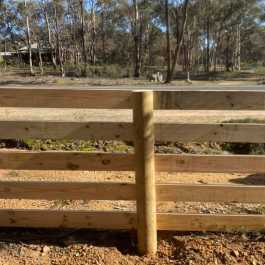 CALL 614-683-0500 FOR YOUR ESTIMATE
Stockade Fences
Need a privacy fence for your backyard?
Stockade fencing built of wood pickets or panels offer complete privacy. In the Columbus Metro area zoning rules will typically limit your stockade fence to 6 feet in height.
Typical woods chosen for stockade fence include:
SPF (Spruce Pine Fir) – natural finish or pressure treated
Southern Yellow Pine (SYP) that has been pressure treated
Western Red Cedar
Eastern White Cedar
Redwood
To ensure longevity of your new fence the wood will need to be painted, stained or sealed.
You can add decorative details such as:
capped fence
scalloped fence pickets or panels
dog ear pickets
lattice top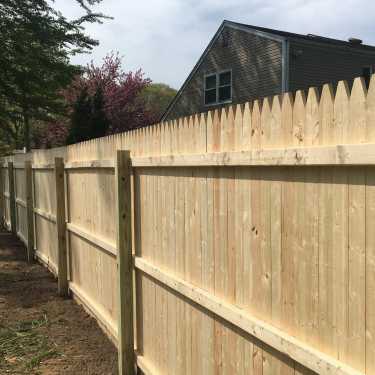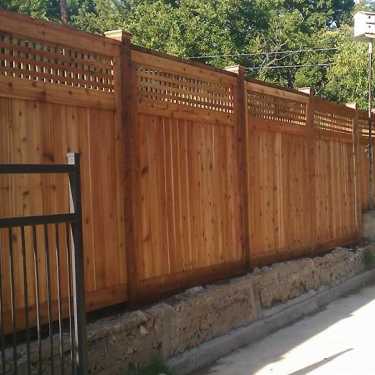 Board on Board Fence
Board on board fences provide the most privacy of any stockade style fence. With a typical stockade fence the pickets are installed side by side. Over time shrinkage of the boards will expose small gaps between the pickets.
Board on board fences are installed with a first layer of boards with gaps. The second layer of boards covers these gaps with an overlap. No visible gaps will ever appear due to wood shrinkage.
Board on board fence cost: Expect to pay 30% more due to additional cost of overlapping boards.
Board on board fence often comes assembled in 6 foot by 8 foot panels.
Any woods used for stockade fences, such as cedar, redwood or pressure treated pine can be used for board on board fences.
Horizontal board on board fence installs the pickets horizontally for a modern look.
Board on board fence style options:
top cap and trim
dog ear pickets
scalloped or concave
post caps
board on board fence gates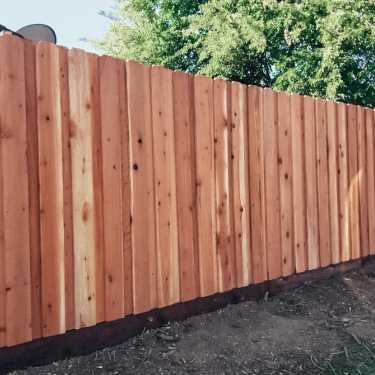 GET IN TOUCH TO REQUEST A QUOTE
Shadowbox Fence
Need a privacy fence but would like more ventilation?
A shadowbox fence maintains most of your privacy but allows ventilation between the staggered rows of pickets.
This double sided style of fence uses pickets installed on both sides of the rails. Each picket covers the gap between the pickets on the opposite side.
Benefits of Shadowbox fence:
Much more ventilation than solid privacy fence.
Protects your privacy since you can not see directly through the fence.
Less likely to blow down due to high wind conditions.
Finished look on both sides since you cannot see the fence frame.
Typical wood choices for shadow box fences include, pressure treated pine, red cedar or redwood.
Shadowbox fence can come pre-assembled in 6 foot by 8 foot panels.
Options for shadowbox fencing:
Arched, concave or scalloped fence panels
Top cap and trim
Lattice top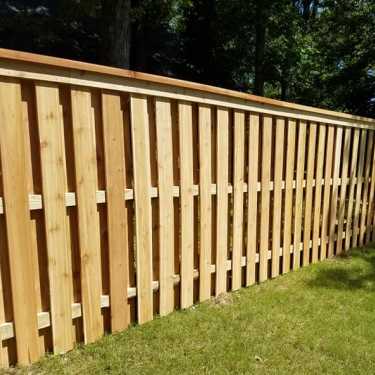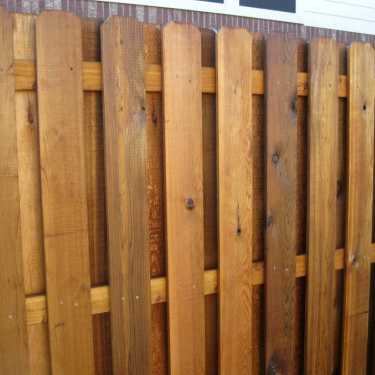 Picket Fence
Enjoy the timeless look of a picket fence for your home. Suitable to enhance your front yard or backyard.
The typical 3 1/2 foot (occasionally 4 foot) height of a picket fence fits the zoning rules of many cities in the Columbus area. Especially for front yards or corner lots.
The fence will most likely be built of eight foot picket fence panels which arrive fully assembled.
Popular wood choices for picket fencing include:
Pressure treated Southern Yellow Pine
Western Red Cedar
Eastern White Cedar
Cedar should be stained to preserve it's natural beauty. Pine pickets can be stained or painted white for the classic white picket fence look.
You can add custom options such as:
dog ear pickets
french gothic pickets
scalloped fence pickets or panels
alternate height/width of pickets for unique look
post caps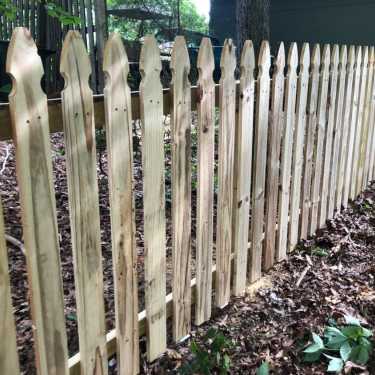 CALL 614-683-0500 FOR YOUR ESTIMATE
Lattice Fence
Lattice fencing offers a great decorative and functional fencing option for your backyard, patio or deck.
Also, latticework can be used for trellis and pergolas.
Lattice fence panels come in a square or diamond pattern.
While a fence can be made entirely of lattice panels, also explore using lattice as a decorative topper for a stockade or similar fence,
Wood choice for lattice will usually be pressure treated Southern Yellow Pine, Western Red Cedar or Eastern White Cedar.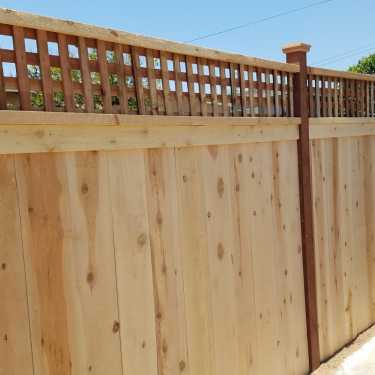 Split Rail Fence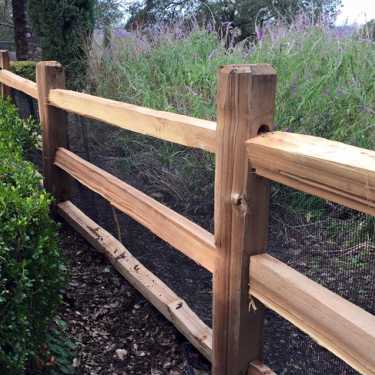 Split rail fence offers a rustic look of rails made from split logs. Check out our page devoted to split rail fences.
Horizontal Wood Fence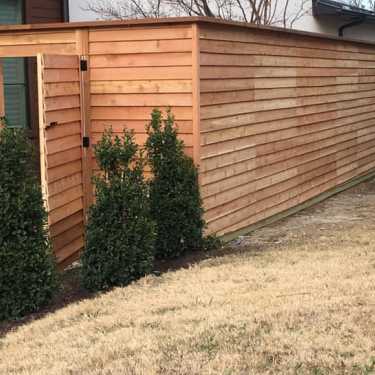 Enjoy the modern look of a horizontal wood fence. Check out your options on our page about horizontal fences.
.
GET IN TOUCH TO REQUEST A QUOTE
Gates for Wood Fences
Your new wood fence will not be complete without gates. You have a lot of options depending on your style of fence. Take a look at these gate ideas for your wood fence.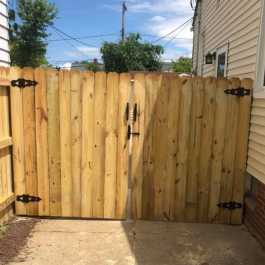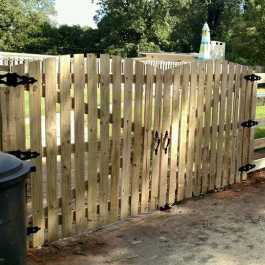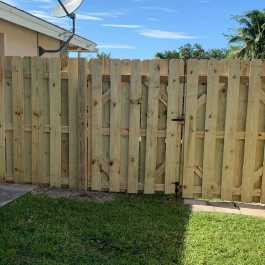 What to Expect During Your Fence Installation
Estimate
The first step in the process is getting an estimate. An estimator will visit your property when you are available and will measure the property. During this visit, the estimator will take measurements of the precise area you wish to fence and discuss fencing options and features like materials and gates.
Preparation
Once you and the estimator agree on a fence that fits your needs, the preliminary work can begin. The fence company will write up a contract, obtain materials, and check for issues with existing utility lines. Depending on where you live in the Columbus area, you may also need to check if any permits need to be pulled before construction commences.
Installation
The first step in the actual physical process of fence installation is drilling holes for the posts. Done correctly this will ensure a durable and well spaced fence. Once the posts are ready a crew will come in and efficiently install the fence. The crew will secure whichever fence material you chose to the posts with quality hardware. This part of the fence installation proceeds quickly.
Results
Once the fence is completed you can sit back and enjoy your new fence and the peace of mind that comes with a durable and secure fence lining your property.
CALL 614-683-0500 FOR YOUR ESTIMATE
CITIES WE SERVE IN THE COLUMBUS METRO AREA
Bexley • Dublin • Gahanna • Grandview Heights
Groveport • Grove City • Hilliard • Marysville • Newark
New Albany • Petaskala • Pickerington • Reynoldsburg
Obetz • Upper Arlington • Westerville • Whitehall