The privacy fence is an essential part of your home. It protects you and your family from prying eyes, while also giving you a sense of security. There are many different types of privacy fences that will work for any budget or aesthetic preference.
In this blog post we'll go over the multiple design options and materials. We'll also talk about what to look for when choosing the right type of fence for your needs so that you can get started on planning out a beautiful new addition to your property!
Privacy Fence Styles
Privacy fence styles range from formal and forbidding to charming and welcoming. In addition to their look and feel, fence designs vary in the amount of privacy they provide.
Because your fence affects the ambiance of your whole landscape, it's worth taking some time to get familiar with the options available, and then weigh the pros and cons of each.
Our list of privacy fence types:
Stockade
The stockade style fence is the most common type of privacy fence. Often when homeowners seek an estimate for a privacy fence what they mean in a stockade fence.
These fences consist of side-by-side boards with no gap. The top of the fence can be finished with simple pointed pickets or gothic points for more style. The pointed pickets provide security by discouraging climbers.
For even more style a horizontal top cap and trim can be added for a more finished look. See our article on design ideas for privacy fences for inspiration.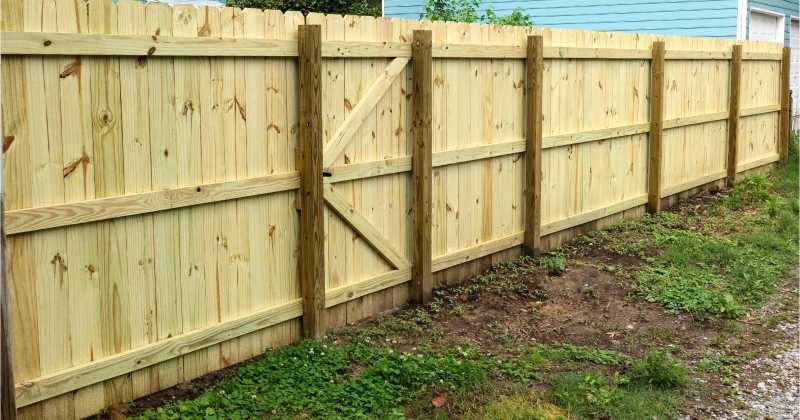 Shadow Box
Shadow Box fences, also referred to as "shadowbox", are one the most popular option for creating back yard privacy.
In this design, boards are placed on opposite sides of the central rail with alternating positioning to create a symmetrical pattern that looks the same from both sides. These fences earn the nickname the "good neighbor fence" since your neighbors see the same finished look as you.
In order to provide privacy, the alternating boards typically placed close enough to eliminate gaps between the boards' edges. However, airflow is still able to pass in between boards. On the downside, this means that individuals at an angle are able to see through it as well.
Typically shadow box fences will be built with wood. Pressure treated pine is a common choice with cedar being an upgrade in appearance and cost.
You can also purchase vinyl shadow box fence panels in six foot sections.
Board on Board
Board on board fencing is constructed with overlapping vertical pickets. Every other board covers the gap between the two underneath pickets. Unlike a shadowbox fence there is no space between the alternating pickets. All of the pickets are attached to the same side of the rails.
A board on board fence will be very study and afford complete privacy. The cost will be higher since more pickets are needed due to the overlap.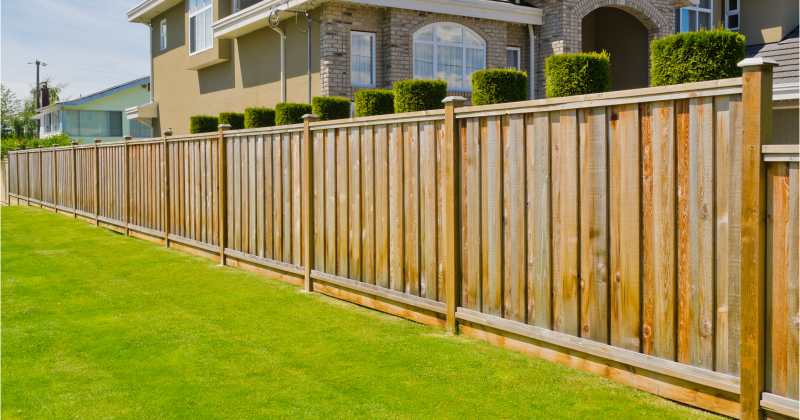 Lock Board
This type of fence has boards fit together tongue-and-groove style to create a solid panel that blocks the view. Lock board fencing will be even more sturdy than a stockade fence.
Unlike a stockade fence, there is no visible gap to allow for expansion. The expansion and contraction takes place within the tongue-and-groove.
A solid lock-board fence will block airflow. This can protect your living area from windy conditions, but will prevent a breeze from cooling you on a hot day.
Lock board fences constructed of cedar provide durability and nice aesthetics.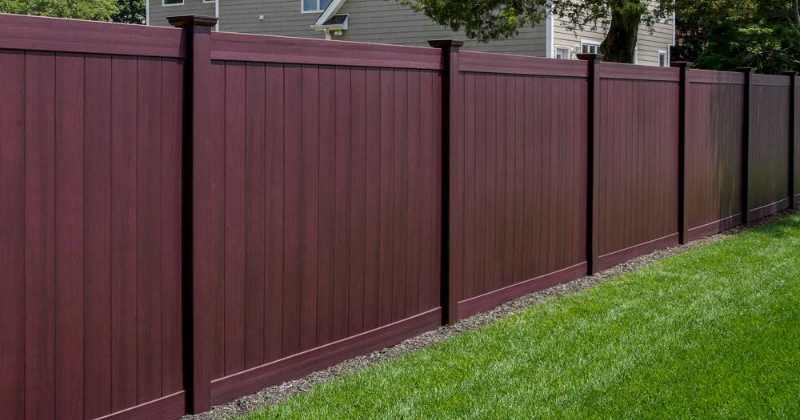 Lattice
A lattice fence, created from thin slats installed in an open criss-cross pattern, is a more decorative type of privacy fence. Usually this fence will be constructed from pre-built lattice fence panels.
Although not providing complete privacy on its own, a climbing vine can be trained to cover up the fence and increase your level of privacy.
Another option is to install a lattice detail on top of a solid fence, such as a stockade or shadowbox fence. The solid privacy fence protect most of your yard from prying eyes, with the lattice top providing an open appearance and visual interest.
Horizontal
A horizontal privacy fence will be built in the same style as a stockade or shadowbox fence just with the pickets running horizontally. Horizontal fencing provides a modern contemporary look.
White not necessary you often seem horizontal fences finished with flat top rail.
Horizontal fences will be more expensive than vertical fences because they require a higher grade of lumber. The horizontal pickets will sag over time if quality lumber is not used.
Choosing A Fencing Material for Your Privacy Fence
Beyond choosing privacy fence design you also have some choices in materials
Wood Privacy Fence
As the most popular material for privacy fences, wood is suitable For every type of home and landscape. The preferred options for wood fencing include:
Pressure treaded pine – also includes Spruce and Fir
Cedar
Redwood
Western Red Cedar
Eastern White Cedar
Bamboo
All of these choices offer tradeoffs between cost, durability and aesthetics. The best choice in wood species will depend on your budget and your home.
Vinyl Privacy Fence
Vinyl offers a durable, low maintenance alternative to wood. Vinyl is stronger than wood and doesn't rot, split or warp or attract insects. You can clean it with soap and water or a power washer.
You do not have to settle for a bight white vinyl fence. Vinyl fencing now come in a wide variety of colors, so it should be easy to find one that you like.
Aluminum
Aluminum privacy fence provide more strength and durability that a typical vinyl or wood privacy fence. An aluminum privacy fence is also outstanding choice for privacy and protection. You can get aluminum fence panels in a shadowbox and board on board styles. Aluminum also makes a great material for privacy fencing in a commercial or industrial application.
Bamboo
Bamboo fencing is a quick and easy way to provide privacy around your outdoor space such as a yard, pool, or hot tub. The fencing is attractive, easy to install, and costs a fraction of other wood privacy fences. Bamboo is a fencing material that also provides its own unique look.
Bamboo privacy fencing comes in rolls or in pre-built panels. The tall bamboo poles are mounted close together which blocks the view of neighbors or passers by. Bamboo fencing not only looks good but is also a sound investment because it provides an economical and environmentally friendly alternative to traditional wood fences.
Allowed Privacy Fences in the Columbus Metro Area
You will need to check your local municipal ordinances and any rules your homeowners association may have regarding fence installation.
For instance Columbus allows privacy fences to be six feet tall while Whitehall, Ohio allows seven feet. You will also find restrictions on materials and color choice.
Conclusion
A privacy fence provides you with a private space in your yard and garden. Whether you want to have a light, breezy fence or one that is completely secluded, there are designs out there for what you're looking for.
Get in touch to see which types of privacy fencing local contractors will recommend for your home.
More Posts about Privacy Fences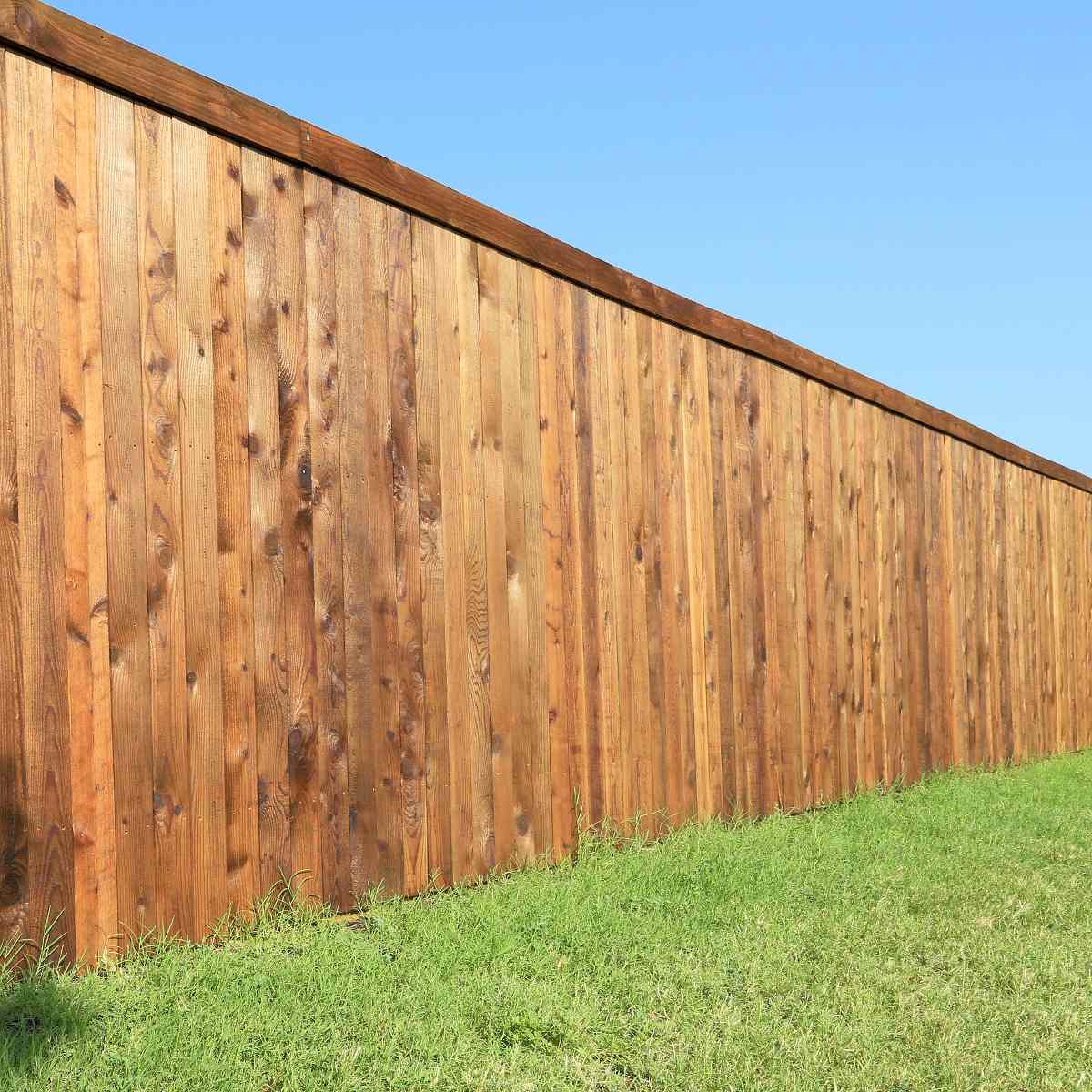 Choosing the perfect fence for enhancing privacy and value is a crucial decision for homeowners. Side by side fencing, which consists of boards hung side by side, is a popular