When fencing your property, you must strike a balance between privacy and style. Private and semi-private fences offer security and aesthetic appeal to your home. They are a great addition to your property, particularly if you enjoy entertaining outdoors.
But which is the best option for you—privacy or semi-privacy fencing?
This blog post will cover the choice of privacy vs semi privacy fence. Hopefully this will help you choose a style of privacy fence that works for your home.
What are Privacy Fences?
Privacy fences have become popular among homeowners who enjoy complete privacy and security in their yards. These fences are closed with no slats or divisions, providing you with total security.
Privacy fences are a great option for keeping animals out and peeping eyes away. They are also effective at securely keeping your pets and kids in your yard while you are distracted.
Homeowners may prefer a privacy fence because the installation process is quick and noninvasive, unlike most other home improvements.
Apart from privacy and security, privacy fences also provide consistency and shape to an unstructured space, thereby adding visual appeal to your property.
What are the Benefits of Privacy Fences?
Offers Privacy and Clear Property Boundaries
One of the key benefits of a privacy fence is that it offers just that—privacy! It creates a solid visual barrier that blocks the view of your property from neighbors and passersby. This is beneficial, especially if you have a pool or hot tub in your backyard.
Privacy fences also create clear property boundaries, preventing outsiders, objects, and animals from encroaching on your property.
It improves security and safety.
Privacy fences are beneficial if you have pets or young children because they keep them securely within your yard with no room to escape. These fences also significantly increase the safety and security of your home by keeping your neighbors' pets as well as wild animals out. 
Some privacy fences have locked gates for easy access into and out of your yard. This can also be used as an entrance when you are entertaining outdoors.
Privacy fences also create an additional physical barrier for intruders entering your property. By default, this makes your home a more difficult target.
Offers weather protection
Privacy fences also act as windbreaks by providing some weather protection for your backyard or outdoor furniture. They can also offer shelter to potted plants and landscaping.
A privacy fence may also provide shade for your patio area, but this depends on the height of the fence.
Types of privacy fences
Stockade
The most popular privacy fence style is the stockade. This fence consists of side-by-side wooden boards with no gap.
To incorporate more style, the top of the fence can have pointed pickets or gothic points. The pointed pickets offer additional security by discouraging invaders.
A horizontal rail can be added to a stockade-style privacy fence for a more sleek finish.
Lock Board
A lock board consists of boards that tightly fit together in a tongue-and-groove style to create a solid panel that blocks outsiders from peeking in. This type of fence is more sturdy than a stockade fence.
A lock board can also block airflow, protecting your patio from strong winds. But this also prevents a breeze from coming in on a hot day.
What is a semi-private fence?
Semi-private fences are ideal for homeowners who desire partial privacy without feeling trapped in their yards. This fencing resembles traditional fencing in that there are small gaps between the planks.
Semi-fencing is generally around 5 to 6 feet tall and is made of wood or vinyl planks. You can create visually appealing designs by choosing between different widths and heights of planks.
What are the benefits of semi-private fences?
Allow more sunlight
If you enjoy gardening and want to create a beautiful border along your fence, then a semi-private fence may be your option. Herbs, shrubs, and flowers need sunlight, which is something that a privacy fence can restrict in a border planting.
Plants and herbs that thrive in the shade will really appreciate a semi-private fence.
Allow more airflow
Homeowners opt for semi-private fences because they allow for more air circulation. This means you can enjoy a cool breeze on a hot summer day while relaxing on your patio.
This type of fence also gives off a more inviting and welcoming feel to your home. It sends a message that you value your privacy but also don't want to cut the outside world off.
Types of semi-private fences
Shadowbox
Shadow box fences are popular for homeowners who want to create a private backyard.
This fence's design consists of boards placed on opposite sides of the central rail to create alternating positioning. The symmetrical design is aesthetically appealing from both your and your neighbor's sides of the fence.
The boards are placed closely together but still have enough room in between for airflow.
Lattice
A lattice fence is a more decorative type of privacy fence. It consists of thin slats that are placed in a criss-cross pattern. The fence is often made of pre-built lattice fence panels.
The lattice fence offers adequate privacy, plenty of airflow, and visual appeal, which adds to the overall value of your property.
Semi-Privacy Vinyl Fence
All semi-private fence styles listed above will be available as a vinyl privacy fence as well as wood fence. Nearly any sort of fence design available for a wood fence will also be available as vinyl fencing.
Privacy vs. semi-privacy fence cost
The cost of a privacy fence or semi-privacy fence depends on what material you are using, as well as the size of the area needing to be fenced. However, semi-private fencing is usually slightly cheaper than private fencing.
The cost of materials for privacy fencing ranges from $7 to $15 per foot. Treated pine is inexpensive as it costs $1 to $6 per foot for a 6-foot tall fence.
Conclusion
A privacy fence and a semi-privacy fence are both great options, but they have different things to offer.
Hopefully, the information provided in this blog will help you determine which type of privacy fencing is most suitable for your home.
Related Posts about Privacy Fences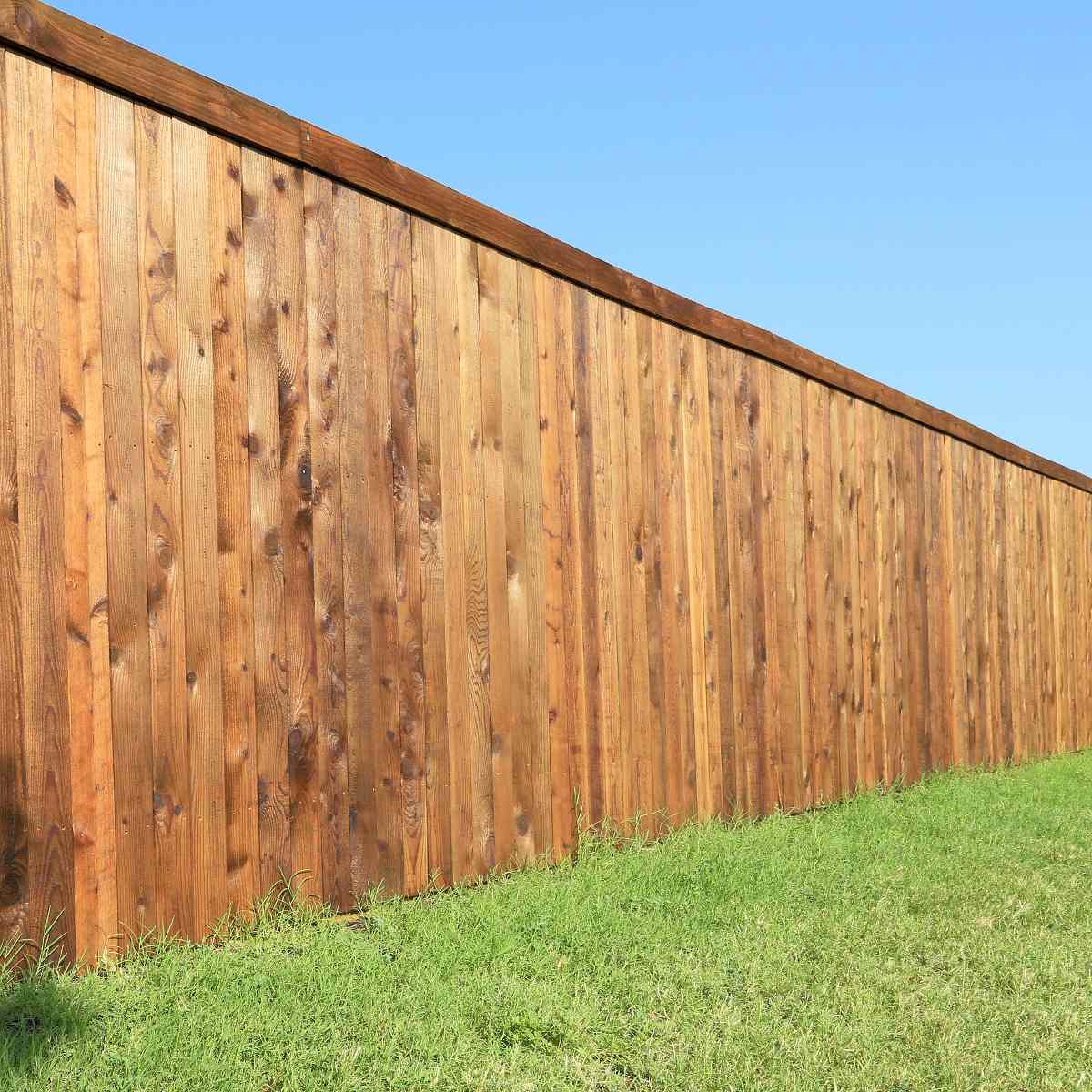 Choosing the perfect fence for enhancing privacy and value is a crucial decision for homeowners. Side by side fencing, which consists of boards hung side by side, is a popular