Professional Split Rail Fence Installation
Choose the rustic look of split rail fence for you home or property.
Send us your details or call now.
SPLIT RAIL FENCE COLUMBUS OHIO
Your Split Rail Fence Company in Columbus Ohio
Why choose a split rail fence? No doubt you are familiar with these quaint fences that originally lined rural properties. Split rail fencing offers an economical option for residential wood fences.
Sometimes referred to as "post and rail fences", these fences are made of wood logs that have been split lengthwise to create the rails. They may have two, three, or four rails, with lots of open space which may be covered by wire mesh.
Check with our fence installers to discuss your fence rail options.
Split Rail Fence with Wire Mesh
Customers often install split rail fence with wire mesh. Wire mesh keeps your pets in, pests out, and maintains the open appearance of split rail fencing.
You have several wire fencing options: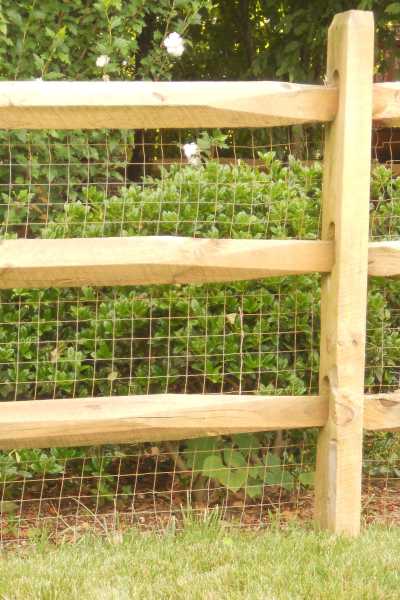 Vinyl Split Rail Fence
More property owners are choosing vinyl split rail fencing for residential and agricultural use. You will also find this fencing referred to as vinyl ranch rail or vinyl post and rail. Why choose vinyl rather than traditional wood?
Actually, there are multiple reasons to consider split rail vinyl fencing: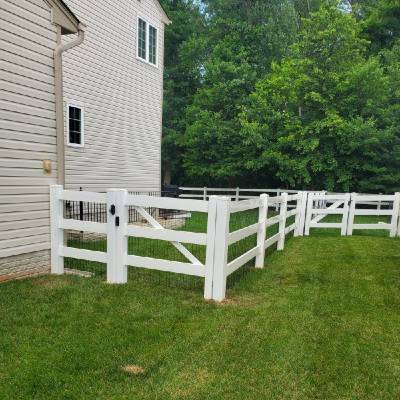 Examples of Split Rail Fence with Wire Mesh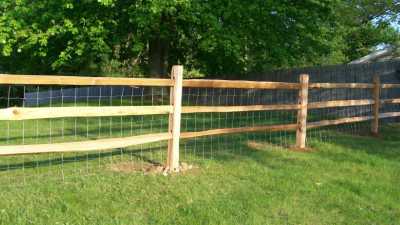 Cedar split rail fence with woven wire to contain dog.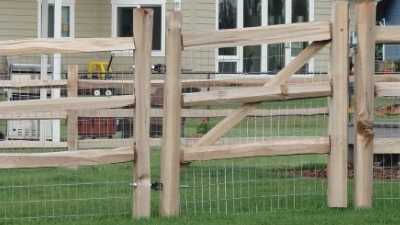 Cedar split rail fence with galvanized welded wire mesh.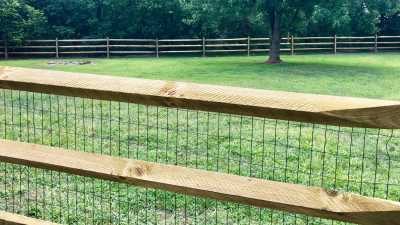 Split rail fence with PVC coated welded wire mesh.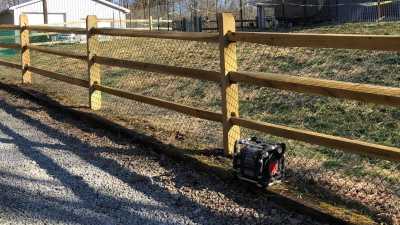 Split rail fence with vinyl coated woven wire mesh.
Popular Choices in Split Rail Fences
CALL 614-683-0500 FOR YOUR ESTIMATE
Best Wood Choices for Split Rail Fencing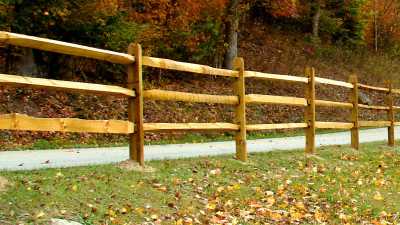 Southern Yellow Pine
Affordable option for split rail fencing. Excellent weather resistance when pressure treated with ACQ2 treatment. Yellow pine posts will last well in soil.
Disadvantages of pressure treated southern yellow pine will be 1) difficult to stain, and 2) will will be prone to warping.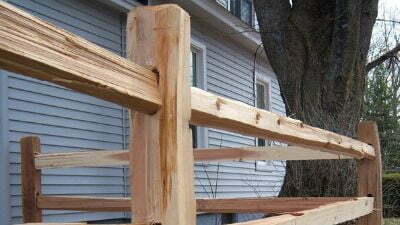 Western Red Cedar
Durable, stable and stands up well to weather for many years. The resins found in Western Red Cedar also make it resistant to insects. The knotty structure makes it well suited for fencing. Not prone to warping.
More expensive and not as easy to source.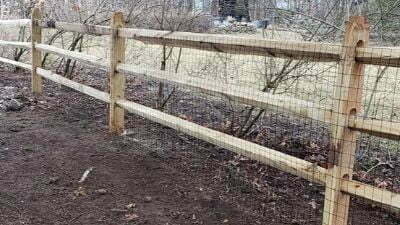 Black Locust
Hardest wood available and will outlast all other options for split rail fencing.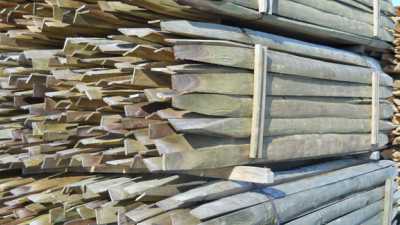 Poplar
High quality poplar logs offer an economical choice for split rail fencing. Typically poplar split rail will be cheaper than cedar, but not quite as durable. Poplar should be pressure treated with ACQ treatment to maximize durability.
Cedar-tone poplar can be obtained. Also, poplar rails can be combined with a more durable type of post.
Hemlock
Less expensive option for rails. Not for ground contact unless treated. Often used in combination with more durable posts that can withstand ground contact.
GET IN TOUCH TO REQUEST A QUOTE
Split Rail Fence Gates
No split rail fence project will be complete without gates. While a gate can be constructed of split rail other styles of gates also work. Check out these gates from split rail fence installations: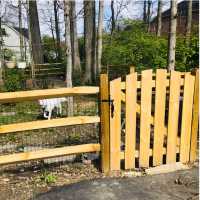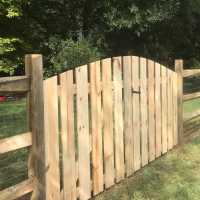 Split Rail Fence Installation FAQ
CITIES WE SERVE IN THE COLUMBUS METRO AREA
Our split rail fencing contractors install and repair split rail fences throughout the Columbus area, including the cities of Ashley, Bexley, Delaware, Dublin, Gahanna, Galloway, Grandview Heights, Groveport, Grove City, Hilliard, Lancaster, Logan, Marysville, Newark, New Albany, Pataskala, Pickerington, Powell, Reynoldsburg, Obetz, Upper Arlington, Westerville, Whitehall and Worthington.