Aluminum Fence Columbus Ohio
Residential, Commercial and more…
Looking for aluminum fencing in Columbus, OH area?
Whether you need a commercial, residential, or industrial fence, we have what you need.
Your Aluminum Fence Company in Columbus Ohio
Aluminum fence is lightweight and provides tough security to a yard or buildings. Aluminum is one of the most common materials used as a fence. This type of fence is durable and immune to harsh weather conditions. We offer high-quality aluminum made only with premium-grade materials. Our world-class service will make you confident that your fence lasts for a long time. We want to be your Columbus fence company.
WHY CHOOSE ALUMINUM FOR YOUR FENCING PROJECT
Aluminum can be used for more than wrapping leftovers, it's also a premium material used to create fences for residential, commercial, and industrial properties.
Why is aluminum a popular fencing material? Well, aluminum is a popular fencing choice for several reasons:
Still need convincing? Aluminum fencing's popularity is backed by a number of advantages like the following:
POPULAR STYLES OF ALUMINUM FENCE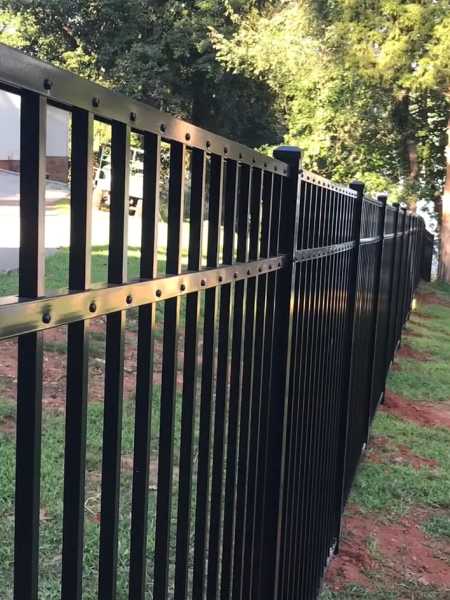 Aluminum Fence Repair Columbus Ohio
If you need aluminum fence repair service in Columbus we can help. Our contractors can take care of all your fence repair needs.
Although aluminum fences are one of the most durable fencing options, they still have parts that will sometimes require refinishing or replacement. Aluminum fences can be damaged by an accident or fence posts can shift in loose soil.
Repairing a damaged aluminum fence may require replacement of an individual rail or an entire section of the fence. Depending on the type of damage, repairs may require the attention of a skilled welder.
If your fence posts have become loose or leaning, they can be stabilized with backfills, such as soil or gravel. Loose rail, can be resolved by using a t-brace, which will make the rail more stable and functional. Consider the color of the replacement part if you don't intend to repaint the fence after repairs are complete.
If you need help with your aluminum fence request an estimate below.
Choose the Best Aluminum Fence Installers in Columbus OH
CITIES WE SERVE IN THE COLUMBUS METRO AREA
Our aluminum fencing contractors install and repair aluminum fences throughout the Columbus area, including the following neighborhoods and cities: