What is a stockade fence? It is the most simple and economical type of privacy fence. Usually a fence of closely fitted vertical boards with pointed tops. Keep reading to learn the advantages of choosing a stockade fence for your home.
Dictionary Definition
Dictionary.com offers a definition of a stockade fence as "a fence of closely fitted vertical boards with pointed tops."
Why is it Called a Stockade Fence?
The stockade fence derives its name from the defensive structures historically employed at military and frontier forts, where logs were sharpened to a point and driven into the ground.
Advantages of a Stockade Fence
The main advantage of the classic stockade fence is providing an affordable privacy fence to enclose your back yard.  A stockade fence also makes for an effective windbreak, a great pet fence, keep your children safe and provide a private area for outdoor living.
A wood stockade fence not only serves a practical purpose but also stands as a testament to the enduring aesthetic appeal of traditional craftsmanship and the beauty of natural materials.
You can build a stockade fence yourself. You can find a wide variety of stockade fence panels in stock at your local hardware store and the necessary hardware, rails and posts to build a fence.
If you would rather hire professional fence contractors they can install a new stockade fence very quickly.
Drawbacks of Stockade Wood Fencing
Even though wood stockade fences are very popular and affordable there a few things you should know:
The wood pickets will eventually shrink, creating visible gaps in the fence that reduce privacy.
While your neighbors will get to see the nice finished side of the fence you will see the posts and rails which support the fence.
Even with regular painting, staining, or waterproofing wood fencing will eventually rot.
You have to perform regular maintenance to maintain the fence.
Wood tends to warp, curve, splinter, and crack.
Some woods are susceptible to insect damage.
Types of Stockade Fence
You can customize a stockade fence by choosing from among the wide variety of picket designs available. Explore the various types of stockade fences listed below to find the ideal match for your personal style and fencing needs.
Flat Top Pickets: These pickets have a smooth, flat top edge, providing a clean, simple look for the fence.
Dog Ear Pickets: The top corners of these pickets are slightly rounded, resembling a dog's ears, and they offer a traditional, classic appearance.
Gothic Pickets: Gothic pickets feature a pointed top, giving the fence an elegant, old-world style.
French Gothic Pickets: These pickets have a more ornate design, with a pointed top and an additional decorative curve beneath the point.
Rounded Pickets: Pickets with a fully rounded top create a softer, more inviting aesthetic.
Angled Pickets: These pickets have a sharp, angled top cut at a 45 degree angle providing a modern and streamlined look.
Scalloped Pickets: Pickets with a decorative, curved top edge create a visually appealing, wavy pattern along the fence line.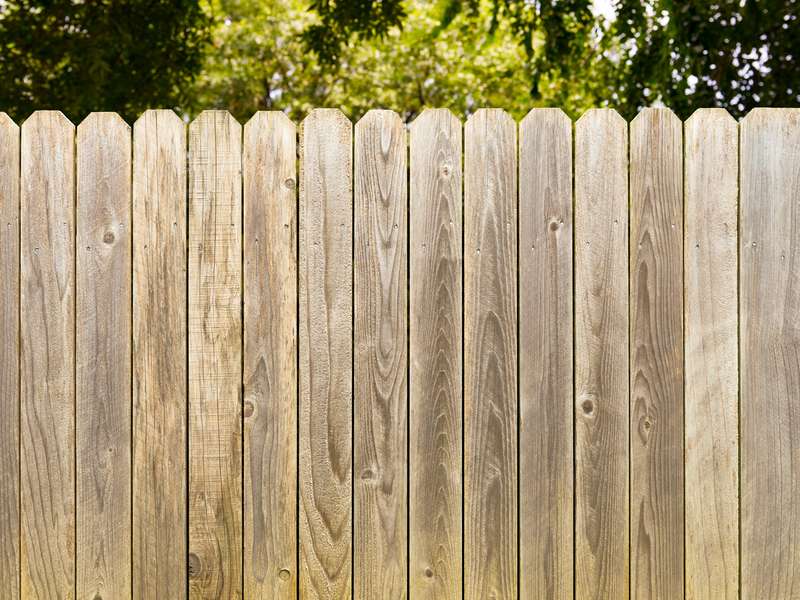 Common Types of Wood Used for Stockade Fencing
Pressure Treated Stockade Fences
Pressure treated stockade fencing will be spruce, pine or fir ("SPF") and will be pressure treated. You can buy individual pickets or more likely buy pre-assembled stockade fence panels in 8′ sections. n come in either natural or pressure treated variations.
The wood is pressure treated in order to resist the weather and insects better.
A stockade fence built with pressure treated lumber will be the least expensive option.
Cedar Stockade Fences
A cedar stockade fence built with Western Red Cedar or Eastern White Cedar fencing costs slightly more but many consider it to be more attractive.
Western Red Cedar is sturdy and long lasting. It's quite stable and unlikely to shrink or warp after installing. It has oils that make it naturally insect-resistant and rot-proof for a long-lasting barrier.
Eastern White Cedar (also known as Northern White Cedar) also contains many natural oils. These natural oils protect against mold, moisture, rot, insects, and warping without needing any additional chemical treatments.
Eastern white cedar wood doesn't require kiln drying. It can be air-dried, which means that it has no impact on climate change.
Redwood
Redwood lumber varies in color depending on its location within the tree. The heartwood from an inner part of the tree will have a dark red color, while the outer sapwood is lightly colored.
It has a tighter grain pattern and less knots the higher the grade, with the highest grades having no knots at all. This wood needs to be properly cleaned before applying any finish. Like cedar and pressure treated wood, it will weather, but if you follow a proper maintenance plan, the effects of weathering will be minimized.
Redwood is the strongest of the three woods, so it makes for an excellent material for building fences. It's very stable – it won't shrink or warp after installation.
Like its color, redwoods' resistance to pests and rot varies depending on which part of the tree you are using. Heartwood has the most resistance. If you intend to use redwood for fence posts, it's essential to use a heartwood grade.
Redwood is the most expensive wood on this list.
Alternatives to Stockade Wood Fencing
If you are set on a wood privacy fence but want a little more style here a couple of ideas:
Stockade Fence vs Shadow Box Fence
A shadow box fence is a semi-privacy fence with one big advantage over the stockade fence. A shadow box fence looks the same from both sides, earning the name "the good neighbor fence".
This fence is built with pickets mounted at intervals on both sides of the rails. You can see through this fence if you get close enough.
Stockade Fence vs Board on Board Fence
A board on board fence solves the problem of vertical fence boards shrinking with age and exposing gaps. The boards are layered so that each gap is covered another board.
While ensuring absolute privacy this fence will cost more than a simple stockade fence since more boards will be needed to create the same length of fence.
Vinyl Stockade Fence
Vinyl stockade fences are made from PVC and are known for their durability and resistance to weather and pests. They require little maintenance, as they don't rot, warp, or peel like wood fences can. Additionally, they are often more affordable than wood fences, making them a cost-effective option for many homeowners.
Is a Stockade Fence Right For You?
I hope we answered your question "What is a stockade fence?". If you have decided to invest in a stockade fence for your home contact us with questions or to set up a consultation.