Because of its aesthetic value wood fencing is often chosen over aluminum or vinyl. Different woods present unique advantages and costs. The best wood for your wood fence installation in Columbus depends on the features you value, such as rot resistance, appearance, and durability in addition to your budget. In this post, we will discuss how to choose the best wood for your fence.
Pressure Treated Pine
Also referred to as "Southern Yellow Pine", or just "SYP". Pressure treated pine continues to be the most popular choice in materials for wood fencing. The affordable price makes it an attractive choice, with the trade off being less durability and more maintenance. Southern Yellow Pine is usually offered as the least expensive wood to use for a fence.
Treatments for Pressure Treated Lumber
A chemical treatment is applied to pressure treated wood to preserve the wood and protect it from rot and insects. Pressure treated wood will be stamped to indicate whether it is rated for ground contact or only above ground use. The most common treatments for pressure treated wood include:
ACQ – Alkaline Copper Quaternary
CA – Copper Azole (CA) –
MCQ – Micronized Copper Quaternary (MCQ).
Pressure treated arrives with a light green color that will turn gray over time. Above ground graded lumber can be used for everything except fence posts and still must be sealed to protect it from the weather. Pressure treated posts and rail can be stained or painted to a color of your choice.
Kiln Dried vs Air Dried
Check if your pressure treated wood was kiln dried or air dried. Kiln dried wood is more stable and will warp less. A KDAT ("Kiln Dried After Treatment") stamp will indicate kiln dried wood.
Cedar
Cedar offers a combination of natural beauty and built-in resistance to decay. The advantages of cedar fencing include:
Durability – Cedar's natural oils make it resistant to the weather, fungi and insects. Cedar fencing will require less maintenance and outlast a softwood fence by many years.
Strength – The wood is lightweight, strong and resists warping or cracking.
Sustainability – Cedar is a more sustainable fence material with a much lower environmental impact than PVC or pressure treated wood. Cedar needs no chemical treatment or kiln drying, which results in a much lower carbon footprint and environmental impact than other fence materials such as spruce, pine and fir.
Western Red Cedar
Western Red Cedar continues to be very popular for fencing projects in central Ohio. The red and white coloration and lack of knots provides beauty and character while being a very durable fencing material for both residential and commercial projects.
Eastern White Cedar
Eastern White Cedar ( also referred to as "Northern White Cedar") provides the natural advantages of cedar with a more white coloration. Eastern White Cedar has a white color that easily takes the paints or stain of your choice. Expect a few more knots than Western Red Cedar, but still far fewer than pine.
Redwood
Quality redwood will show deep red grain that will be near impervious to rot and insect damage. In order to maintain that color and extend the life of your fence the redwood should be treated with a stain or clear finish. Without any treatment redwood will turn a driftwood gray color. Redwood is a softwood and will be one of the most expensive woods used in fencing and decks.
Poplar
Poplar fence rails make for an inexpensive and lightweight choice for post and rail or split rail fences. Poplar boards that have been pressure treated are available, but only rated for above ground use. Since poplar is not suitable for ground contact you will need to choose a different wood for posts. Poplar rails can be purchased with a cedar toned finish.
Black Locust
Black Locust is an ideal material choice for fencing due to its natural rot resistance. This durability allows black locust posts to be placed in the ground. A black locust fence will outlast any other kind of wood fence.
By far the most common application for black locust is split rail fencing. However, decorative fences can also be built from black locust boards. Over time black locust will begin to develop a gray patina. This color change occurs as black locust due to exposure to elements such as UV rays, moisture and air.
Posts Related to Wood Fencing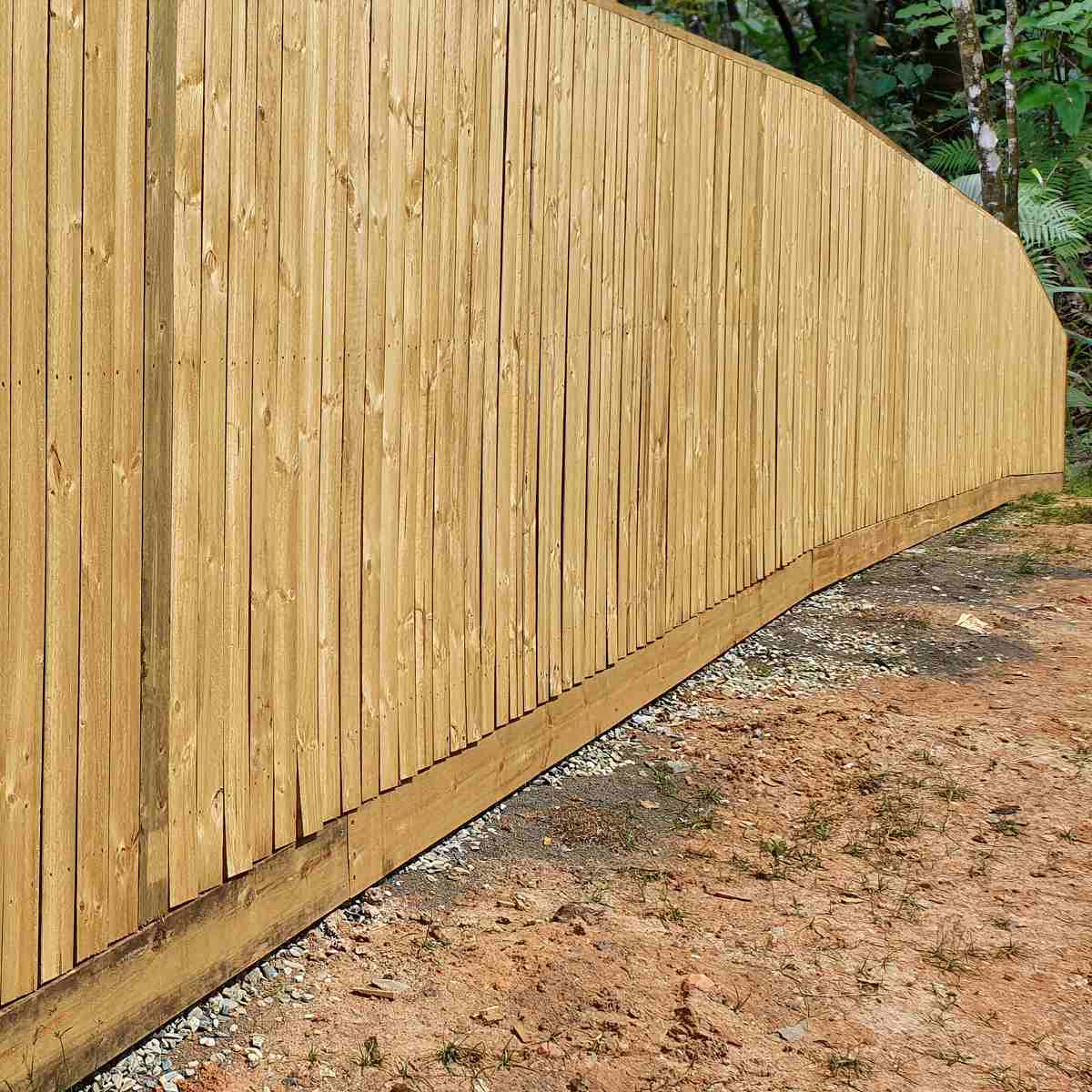 Are you looking to enhance the durability and stability of your fence? If so, then you need a fence kickboard! A fence kickboard is a crucial component that can provide