A well-maintained fence provides your property with privacy and security. Apart from being practical, a fence also offers visual appeal and adds value to your home. But when your fence starts to wear down, it can become unsightly.
When this happens, you can either repair or replace your entire fence. However, before you settle down on an option, it's important to closely inspect your fence, evaluate the damage, and decide how much you are willing to invest.
Most homeowners start by weighing the costs. Although repairing a fence is a cheaper and quicker fix, it only solves your problem for a short period of time. Fence replacement may be a better option if your fence has extensive damage.
Before hiring a Columbus fence company read below on how to assess your fence's condition and decide "should I repair or replace my fence"?
Inspecting the Damage
The first thing you should do before deciding whether to replace or repair your fence is to closely examine the damage. Once you know the state of your fence, you will be able to have a more accurate measure of the labor and costs involved in minor repairs or full replacement.
The type of repairs required depends on the type of fencing you have. Below, we have outlined some of the most common fencing materials and the kind of repairs each may need.
Wood Fence
The most common type of residential fence is made of wood. They are a popular choice among suburban households because of their affordability and visual appeal. Wooden fences also come in a variety of designs and patterns, allowing you to create a fence that suits your taste.
These fences are not only cost-effective and attractive, but they also provide security and privacy. They effectively keep young children and pets in your yard and unwanted guests and wild animals out.
Unfortunately, being a natural material, wood fences are also more prone to damage than synthetic materials. Over time, the wind, sun, rain, insects, and other environmental elements take a toll on your wooden fence. However, a well-maintained wooden fence can last a long time.
How fast and how much a wooden fence deteriorates depends on the type of wood. A low-cost spruce fence could last anywhere between 4 and 7 years. A pine fence is more durable and lasts between 5 and 12 years. The longest-lasting wood fence is made out of cedar. Although this fence is also more costly, it can last anywhere from 15 to 30 years, depending on the weather.
How to Spot Damage to a Wood Fence
Some of the first signs of damage that you may notice on your wooden fence are holes and cracks. This can easily be patched up with wood filler or putty, but you will need to paint over the repairs for the whole fence to match.
If you leave your wooden fence in its natural color, discoloration is an early sign of deterioration. If a section of your fence is turning gray or yellow, the wood is deteriorating, and you may need to replace the damaged pickets or the entire panel.
You may find other natural elements consuming your wood fence, are moss, algae, and mold. If you find moss, algae, or mold on your fence, you need to kill it and then remove it. You can easily kill it with a bleach solution and remove it with a power washer or garden hose.
The most important type of damage to a wooden fence is when it begins to rot at the base of the posts. The posts are what hold your fence up, but over time, even the best-maintained fence will begin to decay at the bottom of the posts.
Posts wear out faster in humid or rainy climates, as well as on properties where there is insufficient drainage. As posts are generally installed on a cement footing, you will need to dig out the whole footing to replace the damaged post.
When you are inspecting your wood fence, start at the posts and examine them from the base up. Check for signs of rot or look for damage close to the ground. Next, examine the pickets and look out for discoloration, cracks, and holes. Inspect your entire wood fence and identify how many pickets and posts are damaged.
Aluminum Fences
Aluminum fences can be very durable if they are well maintained. However, they can be costly to maintain.
You need to inspect your aluminum fence every year for any bubbling paint or rust to keep it from aging. If rust or bubbling paint is visible, it must be sanded down and repainted to protect the aluminum from further damage. If your aluminum fence is maintained this way, it can last for decades. But, aluminum fences may face other types of damage that cannot be fixed with regular maintenance.
A common problem with old aluminum fences has nothing to do with the fence itself but rather with the ground beneath it. Over time, soil settles and shifts, which can eventually loosen fence posts, putting strain on the rest of the fence.
Even a small shift in the soil can warp the railings or cause cracking at the joints of your aluminum fence. As aluminum fences are usually welded into place, repairing a warped fence can be a labor-intensive process that requires a professional.
Aluminum fences are also at risk of being damaged by accidents, such as being hit by a car or falling trees. A powerful impact can easily dent or bend an aluminum fence, and once this happens, the affected section of the fence needs to be removed and replaced.
Vinyl Fences
If you are looking for a fence requiring little to no maintenance, then vinyl fences are ideal. Its color is built in, so there is no paint to fade, crack, or peel. As vinyl is plastic, it is not affected by water or insects.
Damage can occur to your vinyl fence if it is hit by a vehicle, equipment, or a large amount of debris. But the main threat your vinyl fence faces is cracking.
Vinyl fences degrade from the UV rays of sunlight and soil erosion. Vinyl is a lot more flexible than aluminum, but sunlight makes it more brittle and prone to cracking over some time.
The only regular maintenance a vinyl fence requires is a wash with a garden hose or power washer to remove grime and accumulated dirt.
Vinyl fences generally come as complete panels. So, if you need to repair a crack, you will need to remove and replace the affected panel. The good news is that vinyl is fairly affordable, and replacing a vinyl panel is much cheaper than replacing part of an aluminum fence.
Signs That Your Fence Needs Repairs
Apart from the signs above, here are more indicators that will help you determine if your fence needs to be repaired:
You'll spot sawdust at the base of your fence posts.
Your fence's gate fails to close completely.
Your pets are getting out of your yard.
Your fence has trees encroaching on it.
Your fence is missing panels, boards, or chain links.
Your fence is leaning or sagging.
Your fence is drawing unwanted attention from your neighborhood.
Signs That Your Fence Needs To Be Replaced
Fences have a long lifespan if they are properly maintained. But just because they can be repaired doesn't mean they need to be repaired. Below are some signs that you have a broken fence that needs to be replaced.
Your fence is dilapidated.
If your fence has several issues from the list above, it may not be beyond repair, but you have to decide whether it would be better to replace a dilapidated fence.
You may think it's easier to just stain, paint, or replace boards, but is that worth it in the long term?
Your fence has wood rot.
If there is more than one rotted board or post, you can replace and preserve each one, but bear in mind the costs involved. Later down the line, you will have to repair the wood fence again.
A better option may be to replace your wood fencing with a more affordable and attractive vinyl fence that will not risk wood rot over time.
Your fence has been infested.
Suppose you have a wood fence, and wood-destroying insects like termites have infested it. In that case, it's far better to replace it with a different material, like steel or aluminum, than to try and exterminate the insects and replace all the damaged boards.
The 20% Rule
Most fencing professionals use a straightforward metric to help decide whether you should repair or replace your fence. This is called the 20% rule.
According to the rule, if more than 20% of your fence needs repairs, you should rather replace your fence. The material and design of your fence will determine how much of the fence needs to be repaired.
You may think that if only 20% of the fence needs to be repaired, why must you replace 100%? But here's the logic: you don't know how much that 20% of damage really accounts for. If your fence needs 20% repair, it's basically useless.
Another factor of the 20% rule is what may occur after you have made the repairs. Remember, if one part of your fence shows wear and tear, the rest of your fence is also deteriorating. Repairing 20% of your fence now does not mean the remaining 80% is solid. It means that you will need to repair that further down the line. You may spend more money to constantly repair your fence instead of replacing it.
Conclusion
If you are looking at fence repair or replacement, remember the 20% rule. It will save you money in the long run. Keep in mind you may need a zoning or building permit or permission from your homeowners association for fence repairs or replacement.
But the best way to decide whether you need to repair or replace your fence is to get an estimate from a fencing professional. Also, check for their recommendation on the best time of year to repair or install a fence. With some help from a professional fence contractor you can have a beautiful fence in no time.
Related Posts for Fence Installation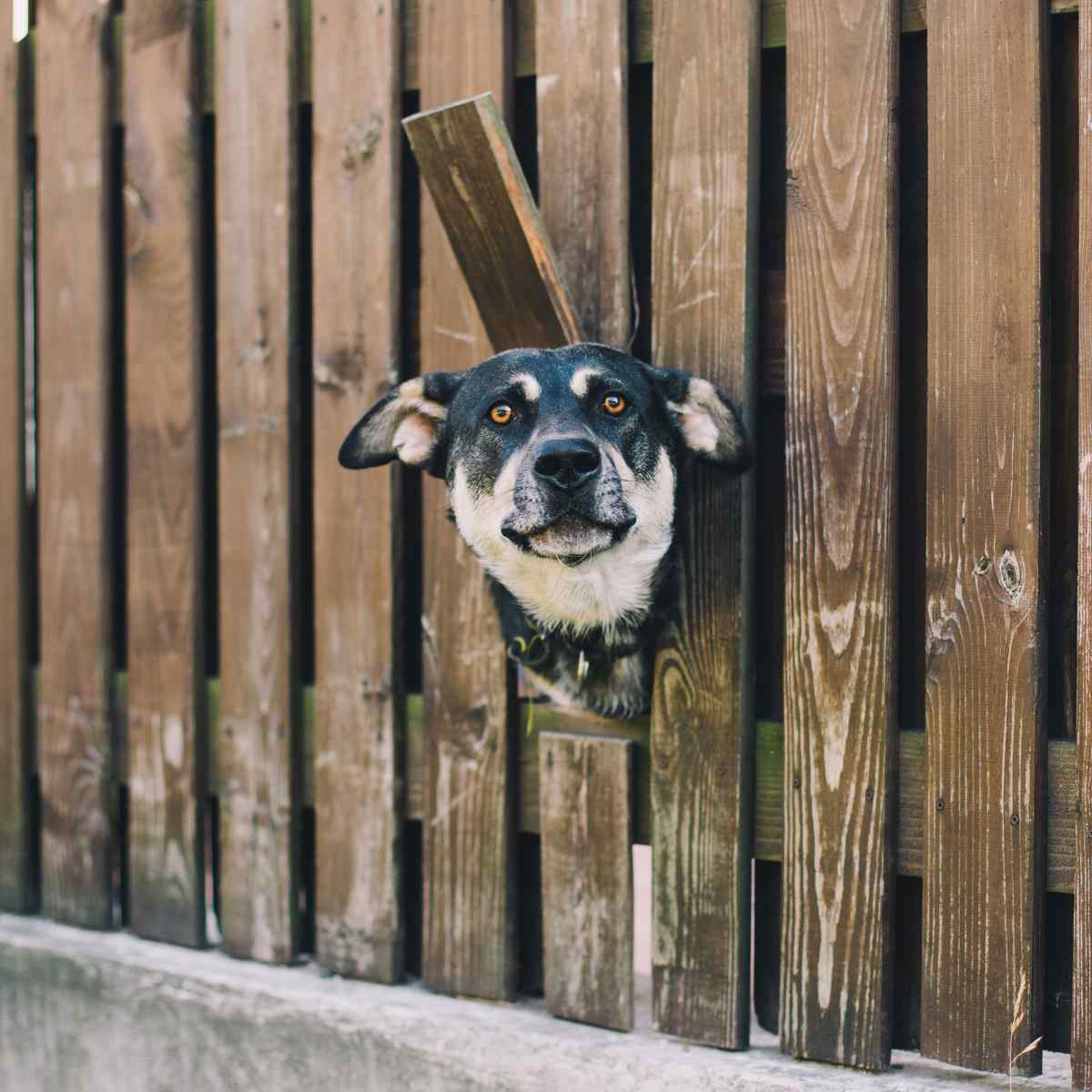 Pet owners often prioritize the safety and security of their beloved pets. One crucial aspect of ensuring their well-being is selecting the right type of fence. This article aims to