If you are considering a vinyl fence installation check out the many types of vinyl fencing that will enhance your home. Vinyl fencing offers the advantages of durability and low maintenance along with many design options.
Vinyl Fence Styles
Vinyl Privacy Fence
Vinyl privacy fencing provides privacy and a decorative element to your landscaping. Vinyl privacy fence is one of the most popular types of privacy fence. Vinyl privacy fence is built using panels that are 8′ wide and 6′ high. While white is a popular color you can also find tan, brown, gray and even black vinyl. Combine colors for a two-toned look. You can also get vinyl fence panels with decorative tops to add some style to your fence.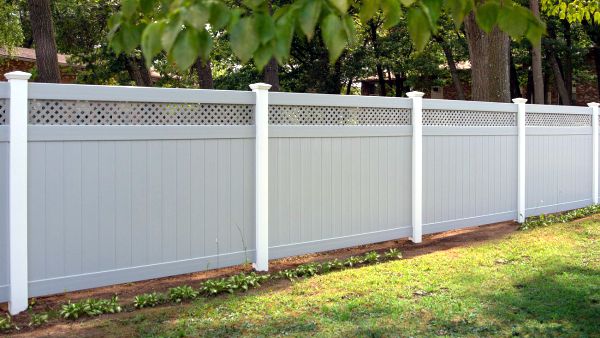 Semi-Privacy Vinyl Fence Panels
Semi-privacy fence offers a compromise between affording some privacy and still allowing airflow. Semi-privacy vinyl fences use several different designs.
The simplest version uses vinyl fence panels that look similar to a full privacy fence but with small gaps between the pickets.
The other main option is a shadowbox style fence. These are built with alternating boards across the back and front (also called a "board on board" or "good neighbor" fence) to give the fence the same look on both sides. The gaps between the boards do not line up so some privacy is maintained. Both sides appear identical so they are ideal for neighboring backyards.
Vinyl Lattice Fence
Vinyl lattice fences offer some privacy with easy and cost-effective installation. Vinyl lattice has a smooth surface and a typical thickness of .25 inches. Vinyl lattice will resist insects, mold, and mildew and requires little maintenance. As compared to wood lattice vinyl lattice will not rot, crack, peel, or become brittle.
Please note that vinyl lattice is distinct from plastic or polyethylene lattice. Injection molded plastic lattice is only .15 inches thick. Plastic lattice is more vulnerable to to temperature expansion and contraction than vinyl. Also, mold and mildew will grow on plastic vinyl so regular cleaning will be needed.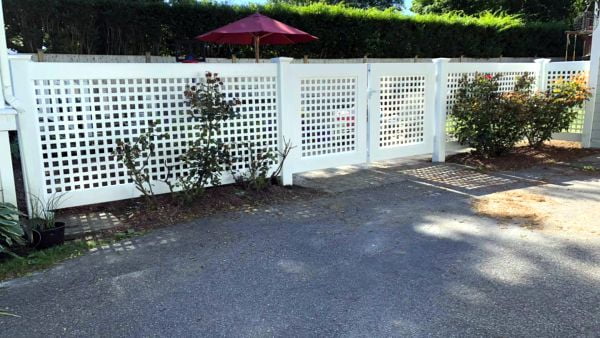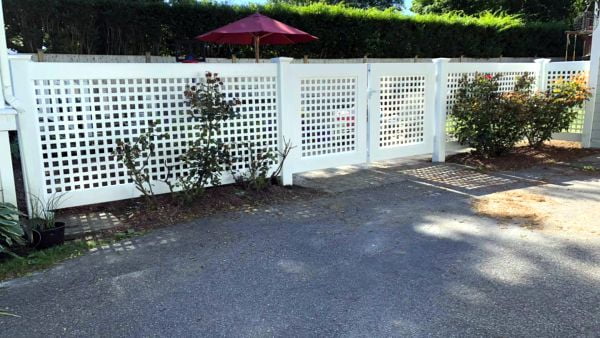 Vinyl Picket Fence
Picket fence is one of the most popular fence types. The vinyl picket style was created specifically to replicate the classic painted (white) wooden picket fence. Vinyl picket fencing is made up of posts (in 6ft to 8ft intervals), two horizontal rails, and pickets in varying widths. It is a bit different from privacy fencing in that it is more for aesthetics and defining boundaries. Vinyl picket fence is a functional and classic addition to any yard. Landscapers and home owners love the look and appeal of a clean white vinyl picket fence. Most vinyl picket fencing is offered in 3ft to 5ft heights.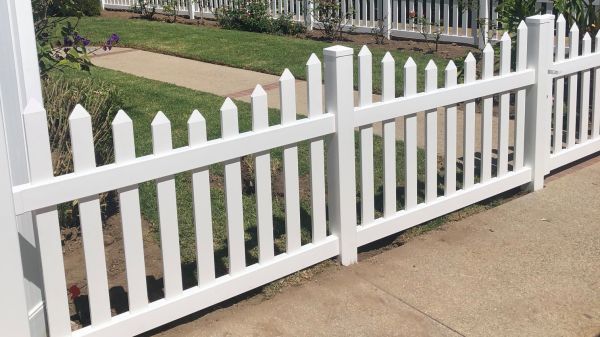 Vinyl Post and Rail Fence
Vinyl post and rail fencing (also called "split rail" or "ranch rail") white typically found on farms and ranches can also be found in the suburbs. These types of fences are made with 2, 3 or 4 vinyl rails and vinyl posts. Vinyl rail fencing is strong enough to keep large animals contained.
Vinyl post & rail is the perfect solution for agricultural fences, housing developments, and other large businesses. Vinyl post and rail fences look better and last longer than the wood or barbed wire fences of the past. And the best part is they do not have to be continually painted and repaired like the older fences. Also, check out the new HDPE options for horse and livestock fencing.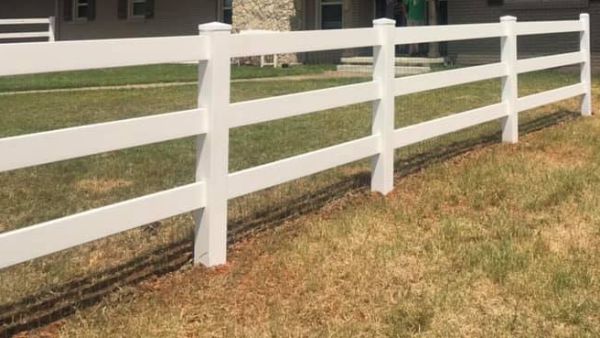 Horizontal Vinyl Fence
Horizontal vinyl fencing takes popular styles of fencing and mounts the pickets horizontally. Privacy and semi-privacy fence panels are available in horizontal styles. The contemporary styles of horizontal fences is increasing in popularity.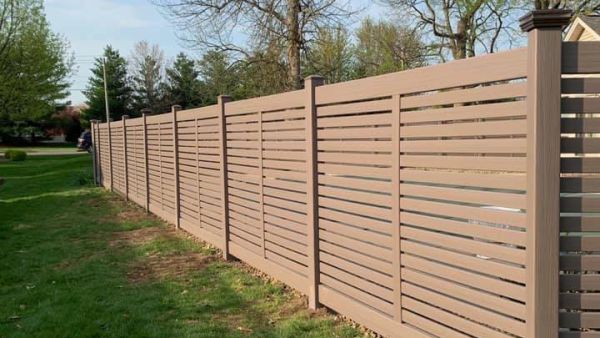 Color Options for Vinyl Fence
White
The white vinyl fence remains the most popular because the bright white look goes with nearly any home. White is recommended when you want to enhance curb appeal without committing to a more specific style that may not stay popular.
Black
Black vinyl fencing took a while for the manufacturers to perfect so the fences could withstand heat and UV radiation. The big advantage of a black vinyl fence is that the dark color hides dirt and other debris.
Tan
Tan was one of the first colors of vinyl fence to hit the market beyond white. Tan vinyl fencing will blend into your landscaping much easier than white. You will see tan described by fence manufacturers as beige, sand, khaki, adobe etc.
Gray
Gray vinyl fencing comes in shades ranging from very light grays to very dark grays. If one manufacturer does not have the shade you desire just keep looking. Gray vinyl is very popular and there are lots of variations to choose from.
Driftwood and charcoal seem to be popular color variations of gray.
Two Tone
Tan or gray fence panels with white vinyl posts and rails makes for a very attractive fence. You can easily gain some style without any extra expense.
Wood Grain
Vinyl fencing products have progressed past all fences having a shiny smooth surface. Now you can get an attractive and realistic wood grain texture. Combined with one of the deeper brown colors and you have a fence that casual observers will assume is wood.
Beyond choosing a style of vinyl fencing, you should also learn how to choose the best vinyl fence in terms of quality.
Related Posts about Vinyl Fencing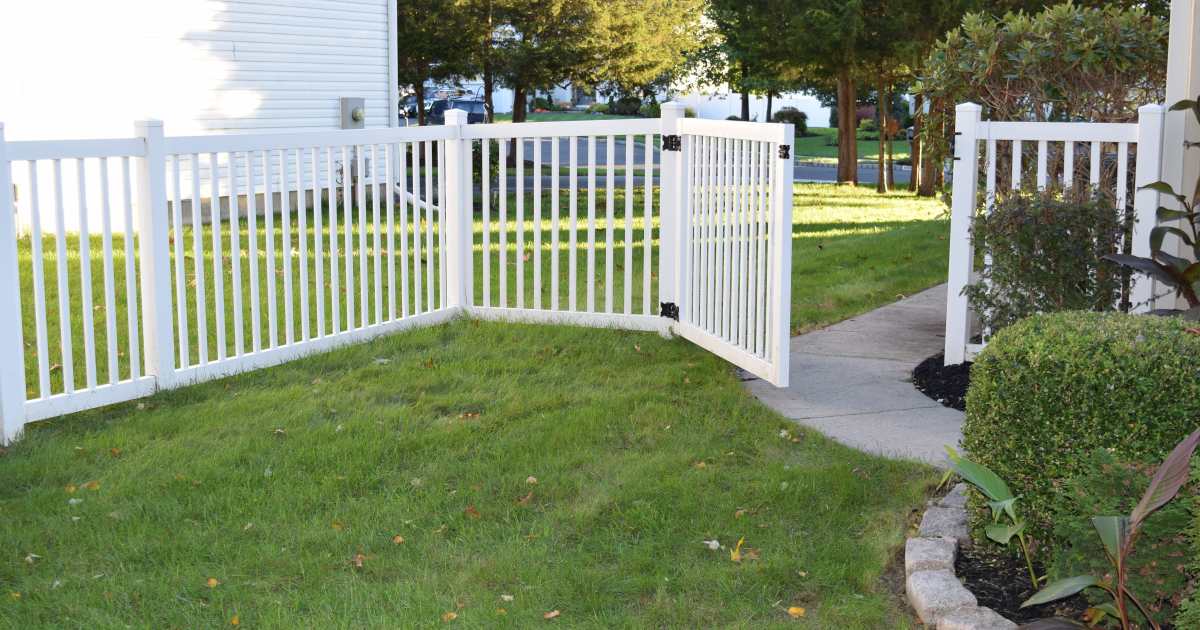 Vinyl fencing offers many qualities that it a great choice for homeowners. With so many choices available finding the best vinyl fencing option can be difficult. So before you choose